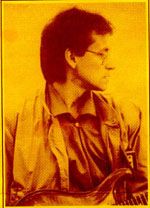 The talents of Grammy nominated guitar virtuoso Joaquin Lievano
have garnered enthusiastic responses from both Jazz and Rock
fans throughout the Americas, Europe and Japan. In addition, the
modern rhythms and burning fretwork of this master's music have
won him the accolades of critics world-wide. Here is what critics
say about this extraordinary composer and performer:

Billboard Magazine - "Nothing prepares you for the gorgeous
melodies.... (Joaquin's) meticulous arrangements and broad tonal
palette let you sink deeply into this music".

Guitar Player Magazine - " ...Joaquin deftly... keeps a crowd on the
edge of their seats."

Jazziz - "A veritable E-ticket adventure... some of the best ever
heard."

Performing on seven major tours throughout the U.S., Canada,
Europe, Japan and South America, he is best known for his
exceptionally fine caliber of stage performances. A sought after
virtuoso, his guitar work is at once refined, energizing and inspired.

Born in Bogota, Colombia, his family moved to New York when he
was one year old. He grew up listening to a mixture of Latin and
Rock music and began to play the guitar at age eleven. Throughout
his adolescence, he played with various Pop and Rock bands while
honing his skills as an instrumentalist, vocalist and composer.

Joaquin first gained international recognition as the guitarist that
fueled some of the biggest selling Jazz-Fusion chart topping singles
with the great violinist Jean-Luc Ponty. With such favorites as
"Cosmic Messenger" and "Egocentric Molecules" as well as album
classics Cosmic Messenger, A Taste for Passion and Civilized Evil,
Joaquin's soaring guitar solos crystallized the guitar sound of the
Jazz-Fusion movement.

With his now legendary San Francisco based band The Warriors,
Joaquin teamed up with Mahavishnu Orchestra drummer and Grammy
winning producer Narada Michael Walden, bassist Keith Jones (later
replaced by Randy Jackson), and the then unknown keyboardist and
now Grammy winning producer, Walter Afanasieff. Mahavishnu
Orchestra violinists Jerry Goodman and later Steve Kindler were
also part-time members. Stellar performances built a West Coast
cult following that filled concert halls as well as inspired other
notables such as Tom Coster, Rodney Franklin and Japanese guitarist
Masayoshi Takanaka to utilize Joaquin's talents.

The demand for his skill as a band leader and session and touring
artist grew to including work with R&B, Jazz and Adult Contemporary
notables such as Gerald Albright, Steve Smith, Airto Moreira,
Sheila E., Harvey Mason, Yanni, Terry Bozzio, Angela Bofill and
Stacy Lattisaw to name just a few.

Joaquin's first solo album "One Mind" on CBS/Global Pacific Records
hit the Adult Contemporary chart at number 9 and the Jazz chart
at number 14. It quickly reached the top 5 play list of radio stations
around the country. Radio producers selected Joaquin's next solo
album "Ecologie" as one of the top four albums of the year.
His work with Dixie Dregs bassist Andy West in the band Zazen
inspired Jazziz Magazine to call Zazen albums "on a par with the
best work of such innovators as Tangerine Dream".

Throughout his career, "this outstanding guitarist has shown
prowess, versatility and most critically, an impressive depth of
feeling with whomever he's played", wrote Ric Levine in Home
Theater. Joaquin Lievano is a formidable talent who continues
to mature to new heights of virtuosity, innovation and inspiration.